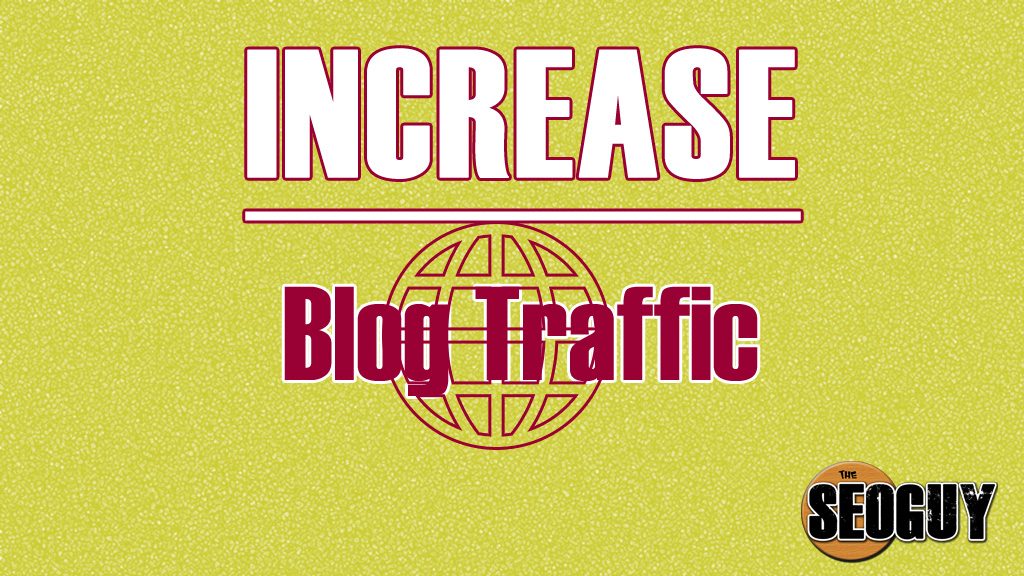 If you are a digital marketers or SEO specialist who runs a blog, then you must be looking to increate blog traffic. Most likely we apply the best marketing techniques to build blog audience so that we could represent our blog to a larger audience. But if we didn't get results as we expect or according to our work, then we need a better plan to increase blog traffic. Every blogger in the world rely on content and some amazing marketing techniques to increase web traffic. You can do this by creating a strong SEO Strategy and using the entire white hat SEO Tips.
But apart from building SEO Strategy and applying all of your brain in marketing tricks, you can also work on audience type. Building a blog audience is an important technique to increase the audience type so that you could capture broad audience and get traffic boost for your blog. Generating free traffic or you can say organic traffic is one of the best options to keep your blog in SERP.
Today I am going to talk about how can to increase blog traffic by building a blog audience. So let's start but before that let's understand what is audience and audience type for a blog or website.
Blog Audience
Blog audience is a group of people who visit a particular blog to find out the information of their interest. For example, TheSEOGuy is a platform for people who are looking for SEO Answers and have interest in digital marketing especially in SEO Techniques, SEO Tips and information on SEO Work. People who visit frequently on my blog are my blog audience. Being a digital marketer I can assume that my audience type would be the people who have interest in digital marketing. But that's now how we should work. In order to find or review blog audience, I need numbers. And for that I can use tracking tools such as Google Analytics.
Website Audience
Similar to blog audience, it is also the group of people who visit a particular website but not only for information. We can take the example of few highest traffic websites such as e-commerce websites, product platforms and services platforms. Here people often visit to either find out the information or get services or product. This is the basic difference between both the audiences. Blogs contain only information, if you are looking for services or products then you have to visit the corporate website.
Building a Blog Audience
Building a blog audience is easy if you know the basic steps to do it. First understand the behaviour of your visitors and then create strategies.  There are few good steps which you can follow to increase blog traffic by building a larder blog audience.
Step 1: Bloggers Network
Getting into bloggers network and making a contribution worth a lot. You can interact with different bloggers and exchange your knowledge. All you need to do is engage with different bloggers on social platforms and help each other in solving problems. Leaving a helpful comment on other blogs or blogging network platform will give maximum exposure on your blog. It would be great if you take part in same niche community. It will be easier for you to exchange words if you have knowledge about the topic.
Step 2: Make your contribution
Make your contribution on different blogs. You need to identify the blogs with same niche and make a contribution so that you both could get some hike in blog traffic. This is the toughest part where you need to pitch the blog owner and explain the benefit of your contribution. Prepare a strong pitch to explain the benefit and how you can help them.
Step 3: Build better response rate
If you have done a guest post then keep an eye on it and respond to user comments even if the blog owner doesn't. Keep your visitors engaged to build more trust on your content. It will help you to gain more returning users on your blog and increase blog traffic.
Step 4: Work hard on content
Writing interesting and newsworthy content can lead to build a strong audience. For this you can take help of tools such as Talkwalker Alerts, Google alerts and Buzzsumo. You can collect the information and publish a blog based on interesting and informative content. Give users what they expect from you. Content plays an important role in blogging and you can't increase blog traffic by using monotonous content.
Step 5: Use of tools
When it comes to increase blog traffic, few people rely on blackhat tools and look for short cuts for internet traffic. It is strongly not recommended to use any automated tool such as website traffic generator or free traffic generator. If you are worried about how to get traffic on blog then rely on your skills and use right tools. Being a SEO Strategist myself, I use Google Analytics for this. Here is how to use Google Analytics to understand audience and built better blog audience.
Steps to analyse audience by using Google Analytics
Login to google analytics
Choose the property (your website)
Click on Audience (left hand side menu)
Select "Overview"
As you can see in above image, audience overview will give you a brief about your audience type and you can check basic details such as:
Demographics
System
Browser
Operating System
Service Provider
Mobile
Operating System
Service Provider
Screen Resolution
Most important menu is "Interests" under "Audience" in Google analytics. It's because you can get complete information of your user interests and their behaviour. Majorly there are two types of categories you can find under "interests".
Affinity Category
In-Market Segment
The affinity category represents the lifestyle of audience. For example hoppers/Value Shoppers, Technology/Mobile Enthusiasts, Media & Entertainment/Movie Lovers, Lifestyles & Hobbies/Green Living Enthusiasts, Media & Entertainment/Music Lovers, Food & Dining/Foodies and Food & Dining/Fast Food Cravers. This will help you to choose the promotion platform for your blog.
On the other hand "In-Market Segment" category identifies the groups of users that are in the market for specific product categories. This data can help publishers get advertising revenue from the top in-market categories. It can also help e-commerce companies define exactly what products their visitors are interested in. Keep in mind, though, Google has just started developing In-market categories so the category list and their coverage in certain geographies may be sparse, but over time more categories and coverage will become available.
Once you are done with user's interest, analyse User's Flow within the same "Audience" menu in Google analytics.
You can analyse the users flow by adjusting filters for the upper drop down list.
As you can see in the picture, I did a small country specific user behaviour analysis for my blog. You can adjust the filters according to your research. Collect all numbers and include it in your Audience Strategy list to prepare a best strategy.
Hope this information on increasing blog traffic by building a blog audience answered the question "How to increase blog traffic".
If you have feedback or suggestions for this information then do comment blow.